These blades are specifically designed for both production and non-production cutting of structural and solid materials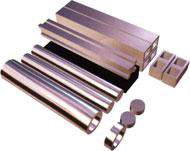 For all cutting applications from mild steel to stainless, monel, nickel, inconel, titanium etc.
| Timber Wolf® Metal Cutting Blade Features | Timber Wolf® Metal Cutting Blade Benefits |
| --- | --- |
| Swedish M42 High Speed Steel Edge | Excellent heat and wear resistance |
| High Quality Alloy Backer | Superior flex life |
| Proprietary Induction Hardening Method | Superior tempering of tooth edge |
| Specialized Tooth Design | Improved chip flow |
(tooth pitches and pricing below)
We weld Bi-Metal band saw blades to any length and can ship within 24 hours. If you require Technical Service for any metal cutting application please contact us at 800-234-7297.
BI-METAL PITCHES AVAILABLE
WIDTH OF
BLADE
Teeth Per Inch
2/3
3/4
4
4/6
5/8
6
6/10
8/12
10
10/14
14
1/4″
HK
RK
VARI
RK
3/8″
VARI*
1/2″
HK
HK
VARI
VARI
RK
VARI
RK*
3/4″
VARI
VARI
VARI
VARI
VARI
VARI
1″
VARI
VARI
VARI
VARI
VARI
VARI
VARI
1 1/4″
VARI
VARI
VARI
VARI
VARI
VARI = VARIABLE TOOTH, HK = HOOK, RK = RAKER
*Available in .025 & .035
BI-METAL BAND SAW BLADE PRICING
M-2
MATRIX
M-42
M-42
Blade Width
1/4″, 3/8″, 1/2″
3/4″
1″
1 1/4″
Blade Thickness
0.025
0.035
0.035
0.042
Blade Length
| | | | | | |
| --- | --- | --- | --- | --- | --- |
| 60″ | 5′ | 24.39 | | | |
| 66″ | 5'6″ | 25.82 | | | |
| 72″ | 6′ | 27.24 | | | |
| 78″ | 6'6″ | 28.66 | | | |
| 84″ | 7′ | 30.09 | 38.51 | 43.84 | |
| 90″ | 7'6″ | 31.51 | 40.60 | 46.32 | |
| 96″ | 8′ | 32.93 | 42.69 | 48.79 | |
| 102″ | 8'6″ | 34.35 | 44.78 | 51.26 | |
| 108″ | 9′ | 35.78 | 46.87 | 53.73 | |
| 114″ | 9'6″ | 37.20 | 48.96 | 56.20 | |
| 120″ | 10′ | 38.62 | 51.05 | 58.67 | |
| 126″ | 10'6″ | 40.05 | 53.14 | 61.15 | 71.17 |
| 132″ | 11′ | 41.47 | 55.23 | 63.62 | 74.14 |
| 138″ | 11'6″ | 42.89 | 57.32 | 66.09 | 77.11 |
| 144″ | 12′ | 44.32 | 59.41 | 68.56 | 80.08 |
| 150″ | 12'6″ | 45.74 | 61.50 | 71.03 | 83.05 |
| 156″ | 13′ | 47.16 | 63.59 | 73.50 | 86.02 |
| 162″ | 13'6″ | 48.58 | 65.68 | 75.98 | 88.99 |
| 168″ | 14′ | 50.01 | 67.78 | 78.45 | 91.96 |
| 174″ | 14'6″ | 51.43 | 69.87 | 80.92 | 94.93 |
| 180″ | 15′ | 52.85 | 71.96 | 83.39 | 97.90 |
| 186″ | 15'6″ | 54.28 | 74.05 | 85.86 | 100.87 |
| 192″ | 16′ | 55.70 | 76.14 | 88.33 | 103.84 |
| 198″ | 16'6″ | 57.12 | 78.23 | 90.81 | 106.81 |
| 204″ | 17′ | 58.54 | 80.32 | 93.28 | 109.78 |
| 210″ | 17'6″ | 59.97 | 82.41 | 95.75 | 112.75 |
| 216″ | 18′ | 61.39 | 84.50 | 98.22 | 115.72 |
| 222″ | 18'6″ | 62.81 | 86.59 | 100.69 | 118.69 |
| 228″ | 19′ | 64.24 | 88.68 | 103.16 | 121.66 |
| 234″ | 19'6″ | 65.66 | 90.77 | 105.64 | 124.63 |
| 240″ | 20′ | 67.08 | 92.86 | 108.11 | 127.60 |
| 246″ | 20'6″ | 68.51 | 94.95 | 110.58 | 130.57 |
| 252″ | 21′ | 69.93 | 97.04 | 113.05 | 133.54 |
| 258″ | 21'6″ | 71.35 | 99.13 | 115.52 | 136.51 |
| 264″ | 22′ | 72.77 | 101.22 | 117.99 | 139.48 |
Quantity discounts for Bi-Metal band saw blades are as follows:
2-5 pcs. – 15% off
6-11 pcs. – 25% off
12 pcs.or more – 30% off